PRIVATE LESSONS
Our private tennis lessons are designed to help players get to grips with tennis basics, build on technique and keep challenging them to reach the next level.
Whether you're a total beginner or an advanced player, we believe that there's always room for improvement.
We have flood lit courts and offer coaching all year round.
PRIVATE LESSON PRICES
PEAK TIME – Weekends, Weekdays from 4pm
£55/h for 1:1 coaching
£60/h for 1:2 coaching
OFF PEAK 
£50/h for 1:1 coaching
£55/h for 1:2 coaching
We can also organise group private lessons with up to a maximum of four
friends.
Please email info@tennis4barnes.co.uk
IMPORTANT INFORMATION REGARDING COVID 19 GUIDELINES 
In order to fully comply with the safety guidelines issued by the Government and the LTA, we're maintaining strict safety protocols as mentioned below. These measures limit hand to shared surface contact and minimise unnecessary interactions with others.
MAINTAINING SOCIAL DISTANCING 
Adaptations to drills and how we provide feedback/instruction may be needed to ensure social distancing guidelines can be safely adhered to
If you or anyone in your household is experiencing or has recently experienced any symptoms related to covid -19 or has been tested positive, you must not book a lesson with us until you've followed the required guidelines to isolate yourself for the appropriate length of time. 
SUBSCRIBE TO OUR MAILING LIST FOR EXCLUSIVE OFFERS
We will keep you informed of ongoing events, news and exclusive offers.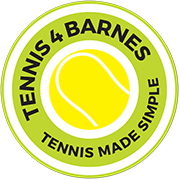 Tennis 4 Barnes. Barn Elms Sports Trust, Queen Elizabeth Walk, London SW13 9SA
info@tennis4barnes.co.uk - 07551 859372