Test your tennis shots against our tennis ball machine. The ball machine has enough settings to make it seem like you are playing against a top class player! You set the level and play to your hearts content.
This is an excellent training tool and helps you to work on your tennis strokes, technique and gain the necessary practice to improve.
It features ball speeds of up to 80mph with topspin, slice, ball height adjustment and has a convenient remote control.
We'll give you a bucket of balls, a ball collector and you can also hire a racket from us if you need one.
The ball machine is £21/hour plus the court booking fee of £9
SUBSCRIBE TO OUR MAILING LIST FOR EXCLUSIVE OFFERS
We will keep you informed of ongoing events, news and exclusive offers.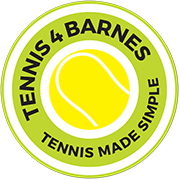 Tennis 4 Barnes. Barn Elms Sports Trust, Queen Elizabeth Walk, London SW13 9SA
info@tennis4barnes.co.uk - 07551 859372