Tennis 4 Barnes
Learn from the best tennis coaches in West London with Tennis 4 Barnes. Our coaching is available for all ages from kids to adults, we provide tennis lessons in Barnes, Putney, Sheen, Mortlake and Hammersmith.
We have floodlit courts giving you the option of all-year-round tennis coaching.
At Tennis 4 Barnes, we teach our players to develop great "feel". It's a process that doesn't involve "thinking" during play – it uses natural instinct. We use tried and tested teaching methods that are based on simplicity and yet deliver superb results!
Checkout the testimonials of our happy customers!
Book Ball Machine
Practice your shots with our ball machines
GET SOCIAL WITH TENNIS 4 BARNES
SUBSCRIBE TO OUR MAILING LIST FOR EXCLUSIVE OFFERS
We will keep you informed of ongoing events, news and exclusive offers.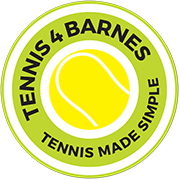 Tennis 4 Barnes. Barn Elms Sports Trust, Queen Elizabeth Walk, London SW13 9SA
info@tennis4barnes.co.uk - 07551 859372