Tennis 4 Barnes
Learn from the best tennis coaches in West London with Tennis 4 Barnes. Our coaching is available for all ages from kids to adults, we provide tennis lessons in Barnes, Putney, Sheen, Mortlake and Hammersmith.
We have a number of venues giving you the option of all-year-round tennis coaching on outdoor and indoor tennis courts.
At Tennis 4 Barnes, we teach our players to develop great "feel". It's a process that doesn't involve "thinking" during play – it uses natural instinct. We use tried and tested teaching methods that are based on simplicity and yet deliver superb results!
Checkout the testimonials of our happy customers!
Book A Court
Get into the game and book an outdoor or indoor tennis court
Book Ball Machine
Practice your shots with our ball machines
GET SOCIAL WITH TENNIS 4 BARNES
TENNIS 4 BARNES ON INSTAGRAM
Something is wrong.

Instagram token error.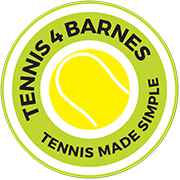 Tennis 4 Barnes. Barn Elms Sports Trust, Queen Elizabeth Walk, London SW13 9SA
info@tennis4barnes.co.uk - 07551 859372